Two of the most important factors when choosing an Outdoor Kitchen company are: Licensing and Warranty. In order to protect yourself from any issues during construction, be certain to get a copy of the Contractor's State Certified Contractor's License. Just like you wouldn't trust your health to an unlicensed Doctor, you shouldn't trust work being done on your property to an unlicensed Contractor.
Additionally, make certain that the Contractor warranties their work! You don't want to spend thousands of dollars on something that could deteriorate or need replaced in a few years.
For more information on warranty, licensing and insurance, visit our F.A.Q. page.
Owner Bill Morris is a State Certified Building Contractor: CBC1251831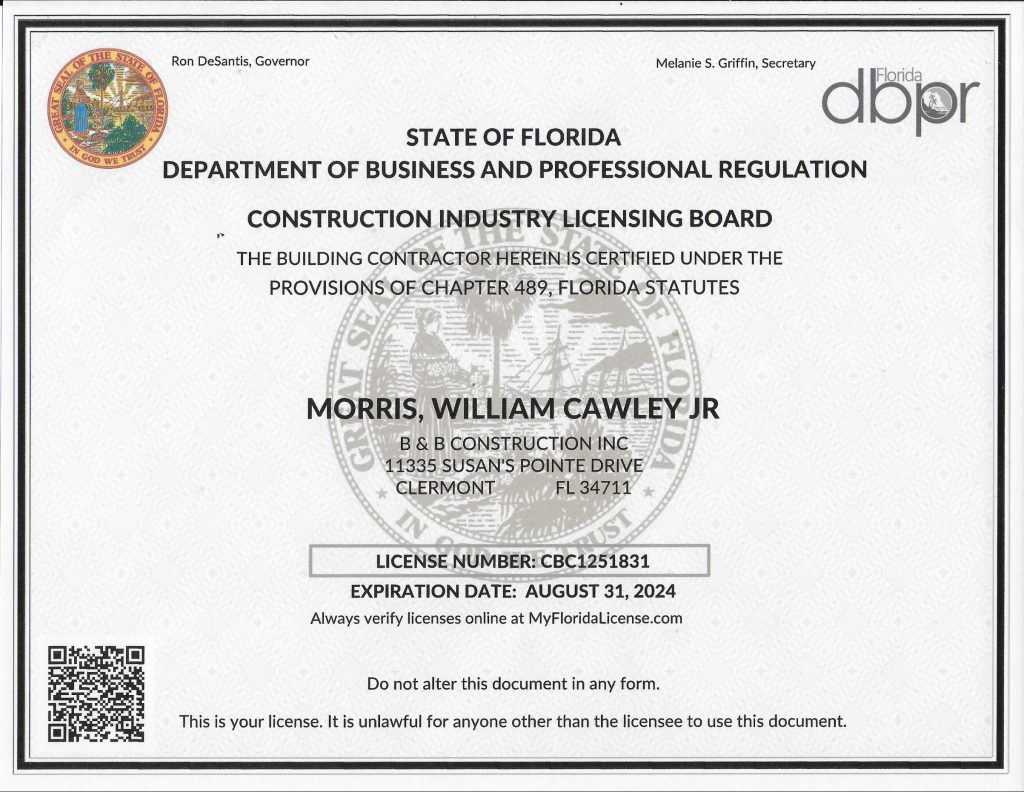 Pursuant to Chapter 527, Florida Statutes, LP Gas licensees must present proof of licensure to any consumer, owner, or end user upon request when engaged in the business of installing LP Gas systems and/or equipment.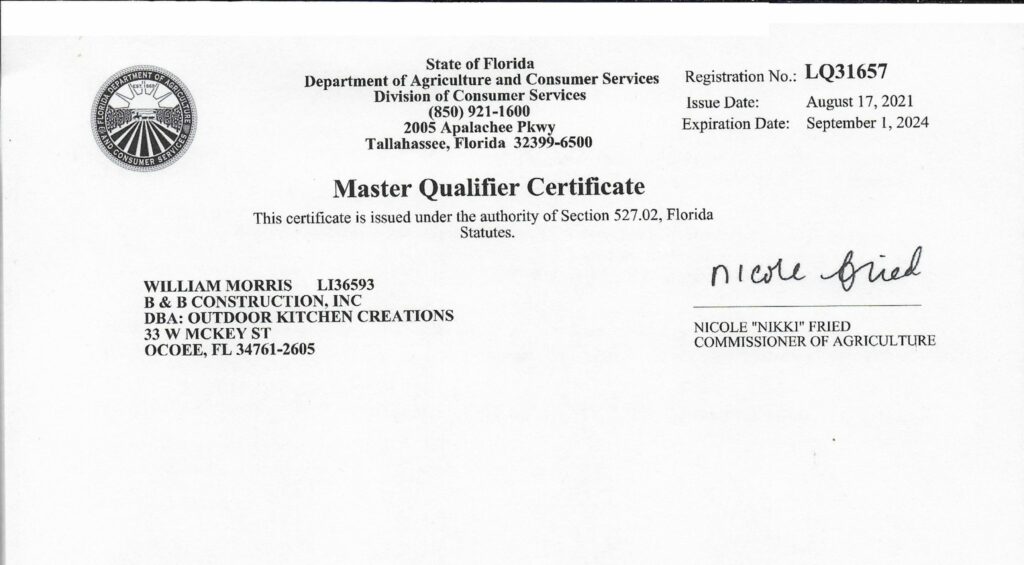 With Outdoor Kitchen Creations you get a LIFETIME structural warranty on our concrete cabinets; the best warranty in the industry! The warranty is shown below in it's entirety.
Lifetime Limited Warranty on Concrete Cabinets
This lifetime limited warranty covers the structural integrity of the concrete for as long as you own the cabinetry.
Your custom built Outdoor Kitchen with poured in place concrete cabinets was built to provide you with a lifetime of outdoor entertainment with friends and family. Should the concrete cabinets' structural integrity fail due to normal wear and tear, Outdoor Kitchen Creations will replace them free of charge.
This warranty goes into effect from the date of construction and does not cover accident, acts of God, misuse, negligence, alteration, abuse, or removal. Nor does it apply in the case of normal wear and tear of the ceramic tile, accent tile, backsplash or other decorative or accent areas of the outdoor kitchen such as under counter lighting.
This warranty does not cover features and conditions that are inherent in the ceramic species, the style, the finish, or finish attributes. This warranty is strictly for the poured in place concrete cabinets and does not include plumbing, electrical, gas hookups or any other aspect of the outdoor kitchen beyond the poured in place concrete cabinets themselves.
This warranty does not cover damage to tile, stucco, peeling of paint, fading of paint, changes in rock fascia or any other cosmetic aging of the outdoor kitchen caused from exposure to extremes in temperature or humidity or the natural effects caused by aging of ceramic, granite, stucco or other products and finishes due to the natural reaction of to UV light, the natural variation in grain or color of ceramic or other material, or any visible cracking around joint areas. In addition, drawer guides and hinges on all cabinets have warranties provided by their respective manufacturers.
If the concrete cabinets are found to be defective under conditions of normal use and service, Outdoor Kitchen Creations, at its sole discretion and following thorough reviews and inspections of the product, will either repair or replace the defective product.
Outdoor Kitchen Creation's liability under this warranty is expressly limited to replacement or repair of the product, and in no event shall Outdoor Kitchen Creations be liable in any way for consequential or incidental damages of any kind. Outdoor Kitchen Creations shall not be liable for any damage or errors resulting from or related to the use of its products.
This warranty is offered to the original purchaser of the cabinets at the original site of installation and is transferable to subsequent owners only with the expressed written consent of OKC. This warranty applies only to the poured in place concrete cabinets. Any warranties on related products such as the grill, refrigerator, or other appliances remains under the jurisdiction of the relevant company which manufactured each product.
This warranty is the exclusive warranty granted by Outdoor Kitchen Creations and is in lieu of all other warranties, expressed or implied, including the warranties of merchantability and fitness for a particular purpose and is further limited to replacement or repair of defective parts or materials only. Damage incurred in removal, repair, or exchange, as well as incidental and consequential damages connected therewith, are excluded and will not be paid by Outdoor Kitchen Creations. Some states do not allow the exclusion of incidental or consequential damages, so the above limitation or exclusion may not apply to you.
To file a warranty claim request, the warranty holder should contact Outdoor Kitchen Creations directly. Proof of original purchase (original contract) is required. OKC reserves the right to make changes in materials and specifications for Outdoor Kitchen Creations' cabinets without prior notification but we have no obligation to incorporate such changes in products that were previously constructed. This warranty replaces any implied warranties.