Below are a few of the most critical questions to ask a potential Contractor before you hire them. As you read through the questions and answers, you'll also find a number of documents that you should ALWAYS get an up to date copy of from any Contractor prior to hiring them. These documents include:
A copy of the company/owner's State Certified General Contractor's License
A copy of the company's Liability Insurance
A copy of the company's Worker's Compensation Insurance
A list of referrals from previous clients (in construction, it's important to get referrals from clients who had their work done years ago, to verify the longevity of the product)
A copy of the company's warranty
A copy of the company's Better Business Bureau Rating
1. What are your cabinets going to be made out of?

Answer:
The cabinets of an outdoor kitchen can be made with many different materials. In the Florida environment, it's critical that you're investing your money in a product that is constructed with the most durable product available: Poured in Place Concrete. This is not to be confused with concrete block! Our cabinets are constructed with a patented poured in place concrete design. Concrete is a solid substrate that will not rust, oxidize, warp, deteriorate, or otherwise be compromised by other environmental factors such as pests (termites), water, salt water (if you are near the ocean), or humidity. An OKC kitchen is a permanent seamless extension of your home. Our outdoor kitchens can be hosed off, rained on, and built/placed without having to be roofed. And unlike concrete block, poured in place concrete allows for better utilization of storage space inside the cabinets.
Outdoor Kitchens can look identical in photographs, or even in person. When considering what material to use for your base frame, a good analogy to keep in mind is the comparison of an above ground pool to an in ground pool. It's the "bones" of the outdoor kitchen that are SO important. While an above ground pool can cost thousands, it is not a permanent, seamless extension of a home like an in ground concrete pool is. No matter how well it's maintained, eventually the above ground pool will deteriorate and need to be torn down and replaced. Outdoor Kitchens are much the same way. If you're going to spend thousands of dollars to improve your home, make sure you are purchasing something that will be there for as long as you own your home.
An extremely important question to ask yourself is, "Are the materials being used combustible?". Keep in mind the extreme heat that can be created when grilling outdoors. Below is just one example of what can happen when combustible materials are used in the construction and use of an outdoor kitchen: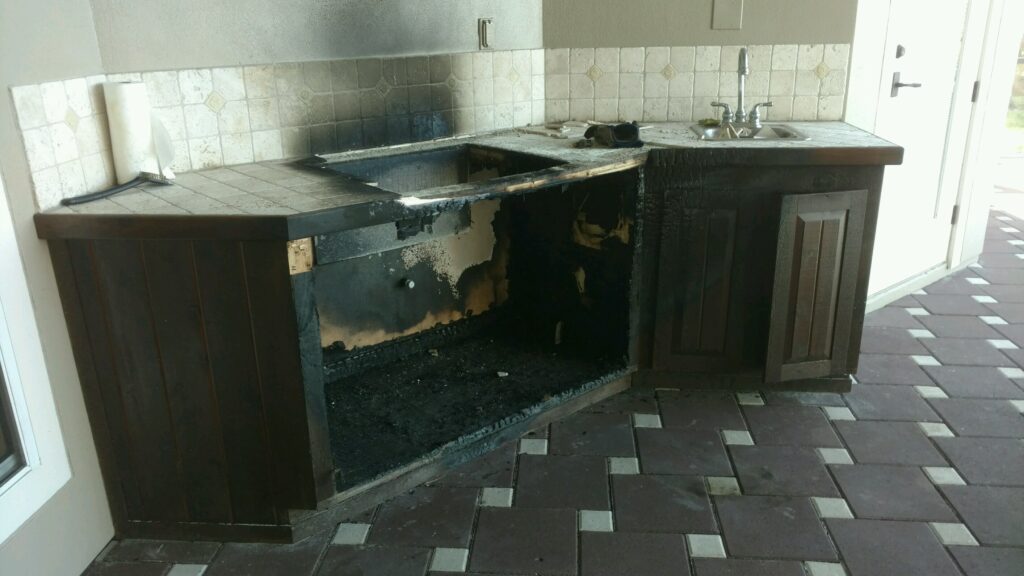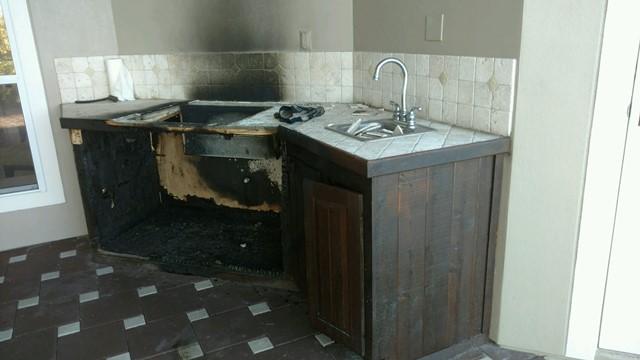 Below are materials you want to avoid, and the reasons why:
Aluminum/Metal frame with backerboard – This is probably one of the most common ways companies are constructing outdoor kitchens today. While sometimes (but not always) less expensive, aluminum/metal frame outdoor kitchens utilize a cementatious backerboard which is laminated (screwed) onto the metal framework.
The galvanized metal studs WILL rust, especially at the cut edges and where there are screw connections. Aluminum frame cabinets will oxidize over time and because it's a laminate structure, it can dilapidate easier over time. Metal frame laminate cabinets are not as structural as concrete solid cabinets. Over time the elements can erode the integrity of the cabinets and they will eventually need to be replaced. Even before replacement is necessary, this can cause your countertops to begin sinking in various spots, causing them to become uneven and unsightly.
Remember, this is an area where you will not only be entertaining, but serving food and beverages to your guests. A dilapidating countertop/outdoor kitchen won't impress your guests!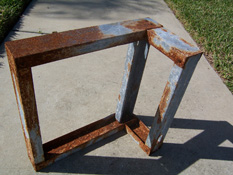 Polymer Cabinets – Although polymer cabinets can sometimes provide a bit more storage, they are essentially a plastic, and therefore, combustible material. Outdoor Kitchens constructed with polymer cabinets require the added expense of an insulated sleeve to help in the prevention of fires. Additionally, polymer cabinets do not provide the aesthetics of an outdoor kitchen constructed of "natural" materials which blend with the exterior of your existing home. Aesthetically, the finished product gives the appearance of an "add on" feature to your home (remember the in-ground vs. above ground pool analogy). At Outdoor Kitchen Creations, our goal is to design and build an outdoor kitchen which blends seamlessly to your existing home, and matches the aesthetics and feel of your existing lanai (rock, stucco, etc.).
Wood – Due to the advancements in outdoor kitchen construction, this is an outdated and less used method of construction. First and foremost, wood is also a combustible material. Even with the added expense and security of an insulated sleeve, wood is a dangerous material to use around equipment which gets as hot as a grill and/or side burners. Outdoor Kitchens constructed with wood do not hold up in the Florida environment and generally do not last more than a few years. Wood disinigrates, warps, and attracts pests such as termites. No matter how inexpensive you can build an outdoor kitchen out of wood (even lumber that has been pressure treated or treated for pests), they are a very temporary structure.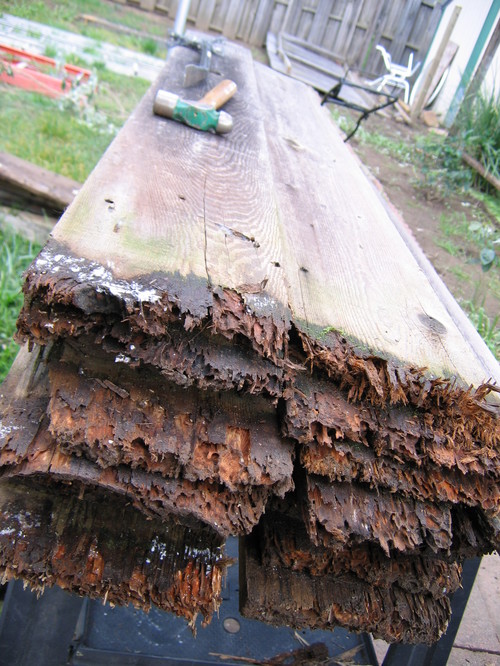 Prefabricated Modular Units (constructed of various materials depending on the company) – Again, the advantage of an outdoor kitchen constructed from pre-fabricated modular units is that the cost may be slightly lower than poured in place concrete. However, the difference in the final product is tremendous. Do you really want to spend thousands of dollars on something you plug in and use duct tape to hide the cord? Prefabricated modular units are temporary and do not give you any return on your investment.
---
In summary, the best choice of material for your outdoor kitchen is:
Poured in place concrete – poured in place concrete cabinets are a permanent seamless extension to your home. An outdoor kitchen constructed with poured in place concrete cabinets (patented design by OKC) is guaranteed to last as long as your home and carries a LIFETIME structural warranty. Additionally, an OKC outdoor kitchen will literally increase the value of your home; helping with re-sell value and the equity you have in your home.
Additionally, OKC uses liquid tight conduit for all wires and we only use stainless steel screw attachments.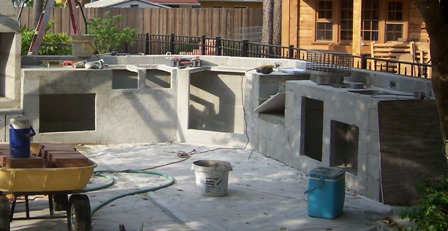 2. What kind of warranty will I get on the cabinets?
Answer:
With Outdoor Kitchen Creations you get a LIFETIME structural warranty on our concrete cabinets; the best warranty in the industry! Click on the link below to see the warranty in it's entirety.
3. Is the company fully licensed and insured by the State of Florida Construction board?
(not just an occupational license)
Answer:
The owner of Outdoor Kitchen Creations is a State Certified Licensed General Contractor by the Department of Professional and Business Regulation: State of Florida Construction Board.
Certified Building Contractor. License #CBC1251831
The owner of Outdoor Kitchen Creations is also fully licensed by the necessary local municipalities (counties).
All of this paperwork is available upon request.
Outdoor Kitchen Creations has been a member of (and has had an A rating with) the Better Business Bureau since 2002.
Outdoor Kitchen Creations Better Business Bureau Report
It is VERY important that you do the necessary research to investigate any company prior to contracting with them. Ask to see copies of their State Certified Contractor's License, Qualifying License, Occupational License, Worker's Compensation documentation, and Liability Insurance. While some contractors may be able to show you one or two of these documents, you should NEVER contract with anybody who cannot provide you with ALL of these forms. Also, be wary of any company who shows you documents which list another name or company other than the name of the company on your contract!!
Here are some important links you can also use to research any company you're considering hiring. Remember, if the company is headquartered in another city (such as Tampa, Miami, etc.), you need to look up information from that area. The Better Business Bureau has locations in almost every major area in Florida.
Construction Industry Licensing Board
Verify a License
Central Florida Better Business Bureau
4. What happens if someone gets hurt on the job at my residence and the General Contractor doesn't carry Worker's Compensation Insurance?
Answer: If a worker is injured and the contractor does not have worker's compensation insurance, the worker can pursue the entity or person with the most assets, which is generally the property owner.
Construction Industry: An employer in the construction industry who employs one or more part or full-time employees must obtain workers' compensation coverage. Sole proprietors, partners, and corporate officers are considered employees. In the construction industry only , members of a limited liability company are considered corporate officers. Corporate officers may elect to exempt themselves from the coverage requirements of Chapter 440, F.S.
A construction industry contractor, who sub-contracts all or part of their work, must obtain proof of workers' compensation coverage or a Certificate of Election to be Exempt from all sub-contractors, prior to work being done. If the sub-contractor is not covered or exempt, for purposes of workers' compensation coverage, the sub-contractor's employees shall become the employees of the contractor. The contractor will be responsible to pay any workers' compensation benefits to the sub-contractor and its employees.
5. How can I verify that a Contractor has General Liability Insurance?
Answer: If there is a product failure or latent defect in the construction and the contractor does not carry general liability insurance, there may be no recourse in the event that your contractor decides not to fix the problem or is no longer in business. To verify coverage, a Certificate of Insurance should be delivered from the insurance carrier verifying insurance coverage of the builder or contractor, including coverage limits. Outdoor Kitchen Creations carries General Liability Insurance and provides a certificate of General Liability Insurance.
6. If I Hire A Contractor Without Liability Insurance, Who Covers or Insures the Finished Work?
Answer: If the contractor or builders does not carry general liability insurance, the client or homeowner at the time of construction can be held ultimately responsible for the workmanship or defects in the event of failure or latent defects in the construction.
7. What happens if I hire a contractor that doesn't have Liability Insurance?
Answer: The old saying is "Caveat Emptor", or buyer beware. We never recommend work to be performed by unlicensed or uninsured persons. Should an accident occur or should there be subsequent damage to your property (even after the uninsured Contractor leaves), you are taking the risk of losing your personal property (including your home). Additionally, should your residence or any material goods at your residence be damaged or stolen during construction, you have no recourse to recover for damages.
In Summary: HIRE A FULLY STATE LICENSED AND INSURED CONTRACTOR.